Family hotel in Davos Wiesen
Travel to Davos with your family
Passionately we care for you, so that your family holiday in Switzerland is a guaranteed win!
Whether it's grandma with her grandchildren, single dad, a rainbow family, or the picture album family, there's playmates, fun and relaxation for everyone! With our children friendly atmosphere in the whole house everyone feels welcome.
Thanks to family friendly accommodation you can book the apartment or room which is right for YOUR family.
In the surrounding area you can enjoy a lot of free nature, but in a few minutes you can also reach the top Swiss Alps destinations Davos or Lenzerheide.
Have a look at our website! If you have any questions, please do not hesitate to make any further inquiries. We look forward to meet you all!
In this family hotel there is a lot to experience and discover!
activities in the hotel
Here you can see what there is to find in the hotel.
more information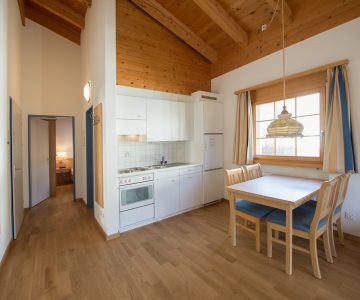 How would you like to recide?
Here you find all our different accommodation possibilities.
more information
Playroom for toddlers
Even small children feel comfortable in the Muchetta.
more information